ETN Global's latest R&D Recommendation was released in October 2018. ETN stands for European Turbine Network and its technology of interest is the gas turbine. The 2018 Recommendation is notable because it is the first that includes ammonia on the R&D agenda.
ETN Global is an industry association that grew out of the European Commission's 5th Framework Programme for technology development in the early aughts. Today the organization has 107 members sprinkled across 23 countries, with a strong center of gravity in Europe. It has no members domiciled in Japan, although one of its two American members, PW Power Systems, is owned by Mitsubishi Hitachi Power Systems (MHPS).
According to its Introduction, "the subjects suggested [in the Recommendation] should trigger respective actions within the ETN community in various forms: R&D projects, feasibility studies, best practice guidelines, development of standards and technical briefing papers." Its animating concepts are detailed in its Market Conditions and Policy Framework section:
Energy systems are undergoing fundamental changes across the world, driven by three key trends: Decarbonisation, Decentralisation and Digitalisation. Decentralised power generation, intelligent power grids, overall system integration, unconventional fuels and of course, renewable energy sources (RES) are at the top of the energy agenda.
ETN R&D Recommendation, October 2018.
Ammonia is one of eight energy vectors listed in the Extended Fuel Spectrum section, although the other seven have at least one foot in the old carbon-centric world ("natural gas/H2 mixtures;" "H2-rich fuel gases (e.g. syngas or coke oven gas)" . . .).
Ammonia's inclusion in the Recommendation raises an interesting question: is the listing a sign that ammonia gas turbines (AGTs) are just around the corner, or that they are a long way off? The question appears to have one answer in Europe and a different answer in Japan.
The European position is reflected in the Power to Ammonia report that was published by the Dutch research agency Institute for Sustainable Process Technology (ISPT) in March 2017.  In considering the possibility of converting part of the Nuon Magnum power plant to an alternative fuel, ISPT concluded that "NH3 [direct combustion] would give the highest efficiency, but would require the development of a complete new combustor requiring much time, resources and investments and a probability for high NOx-emissions. The combustor would also be bigger due to the combustion properties of NH3." (Emphasis added.)
Thirteen months earlier, though, the Japan Science and Technology Agency had published a story in JST News about Tohoku University's AGT program.  The story described Tohoku's success in developing a functioning version of a small-scale gas turbine fueled exclusively with ammonia.  It was subsequently translated into English and published in Ammonia Energy in February 2017.  The story includes a description of progress with the emissions challenge, both achieved ("a NOx removal system using catalyst technology has already been established") and anticipated ("the future target is to improve the combustion technology so that nitrogen oxides in the flame are minimized").
In the intervening period, Japanese players have indeed progressed on this front. An Ammonia Energy post reporting on the 2017 NH3 Fuel Conference discussed a presentation by IHI Corporation's Shogo Onishi: "IHI confirms that the team has 'established a technology for stably burning ammonia while suppressing the production of NOx (nitrogen oxide).' With this success, the thrust of the program appears to be moving from the laboratory to the marketplace, with IHI intending to 'accelerate our efforts to commercialize this technology by field-testing power generation by 2-MW class gas turbines.'" (Emphasis added.)
Still more progress was reported at the 2018 NH3 Energy+ Conference in papers from groups led by Tohoku University ("Development of Low-NOx Combustor of Micro Gas Turbine Firing Ammonia Gas") and the National Institute of Advanced Industrial Science and Technology ("Two Stage Ammonia Combustion in a Gas Turbine like Combustor for Simultaneous NO and Unburnt Ammonia Reductions").
The ETN R&D Recommendation, by contrast, presents the NOx challenge as a daunting mountain range that no one has yet attempted to navigate: "The main drawback of using ammonia for combustion is the production of NOx due to the 'fuel-bound' nitrogen contained within NH3: this issue is very severe if pure ammonia is burnt but is still present for the NH3 crack gases because of any residual ammonia left over from the cracking process. Special low NOX combustion processes need to be explored to minimize fuel bound nitrogen conversion." (Emphasis added.)
Agustin Valera-Medina, Senior Lecturer at the Cardiff University School of Engineering in the United Kingdom, has a uniquely well-qualified perspective on this topic. He is the lead author of Ammonia for Power, a review article that appeared in Progress in Energy and Combustion Science in June 2018. The paper includes a comprehensive survey of research performed on the use of ammonia in combustion turbines throughout the world. In an Ammonia Energy interview this week, Valera-Medina confirmed the disparity between the European and Japanese positions.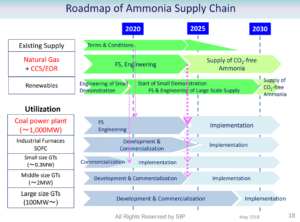 "In Japan they are engaged in the game and they want to go for it," he said. "They believe that [AGT technology] is part of the future."  Valera-Medina participated in the November 2018 NH3 Energy Implementation Conference and recalled the AGT timeline presented by Shigeru Muraki, Director of the Energy Carriers initiative within Japan's Strategic Innovation Promotion Program.  The timeline called for full commercial implementation of mid-size AGTs ("~2 MW") in the mid-2020s and of utility-scale AGTs ("~100 MW") in the late 2020s.  Valera-Medina said he finds this credible.  Given the scope and pace of the Japanese program, "a gas turbine will be available in, say, five years."
By contrast in Europe, he said, "even the best case scenario, we're talking at least 8 to 10 years before that actually happens." Such a scenario would necessitate near-term investment in technology development. "But," Valera-Medina said "the message is not there yet. A lot of people are struggling with it, especially people funding these types of projects."
Cardiff University is a member of ETN Global but was not represented on the Project Board that formulated the R&D Recommendation. The Recommendation calls for an Ammonia/Hydrogen Working Group to "share technical information and address issues related to ammonia and hydrogen combustion in gas turbines." Valera-Medina has been tapped as a member of the Working Group and will contribute to the Ammonia Subsection when the work program kicks off.
The Europe vs. Japan theme plays out tangibly in the global gas turbine market, where Siemens and MHPS have long-standing claims on two of the top three market share slots for utility-scale (>100 MW) turbines. (General Electric has the third.) Siemens funded Cardiff University's initial foray into ammonia combustion in 2014. The company has expressed interest in the distinctive approach to ammonia combustion that Valera-Medina and his Cardiff colleagues have developed, but the interest has not ripened into "a formal, fully funded commitment for novel AGT development, only for ammonia fueled internal combustion engines." In parallel, Siemens has joined the Norwegian research organization Sintef, the state oil company Equinor, and the Norwegian University of Science and Technology (NTNU) in an AGT program in Norway. Valera-Medina says the program's focus is on retrofitting gas turbines on oil rigs so that they can run on ammonia-hydrogen mixtures "without major modifications of those units," and not on ground-up, new AGT technologies.
MHPS, for its part, announced in March 2018 a plan "to put a 'hydrogen-dedicated gas turbine . . . into practical use by 2030.' The company also stated that it has 'started developing technology to extract hydrogen from ammonia,' citing ammonia's ease 'to store and transport.'" (The quotation is from a contemporaneous Ammonia Energy post.) One geographical locus of this work, as it happens, will be the very same Nuon Magnum power plant that was the focus of ISPT's business case — including skeptical consideration of an AGT — in 2017.