In the last 12 months …
Green ammonia pilot plants began operations in the UK and Japan, and new demonstration plants were announced in Australia, Denmark, Morocco, and the Netherlands (more, yet to be announced, are in development). Fertilizer company CEOs spoke about how green ammonia fits their corporate strategy. And all four of the global licensors of ammonia technology made it abundantly clear that they are ready and willing to build your green ammonia plant, today.
Yara, one of the world's biggest ammonia producers, added green ammonia to its innovation platform in its 2017 Annual Report, with the ambition of "establishing a leading position on de-carbonized ammonia production combined with a business model of ammonia as an energy carrier." Yara continues to study the potential for solar ammonia at its existing Pilbara plant, and we might see an investment decision in the coming year.
"Our industry has had fundamentally the same method of ammonia production for a very long time now … but we are looking at ways to produce it through renewables. Solar could be one such avenue and it would be very exciting if we could look into a pilot plant operation to look at the feasibility of this to bring it up to industrial scale. The Pilbara region is very suitable for solar-based production of ammonia with ample sun and land availability, and with our existing operation there it fits well."
Svein Tore Holsether, CEO of Yara, quoted in The Australian, Yara plan for 'renewable' outback ammonia plant, November 2017
OCP, one of the world's biggest ammonia consumers, also set its sights on green ammonia, with a pilot plant in Morocco and the potential establishment of an African Institute for Solar Ammonia.
"Responsibility for the environment has always been important to us, not just when working in our mines, but as a fundamental principle of our circular economy approach. The use of Green Ammonia fits in with this strategy. It can help conserve valuable resources and provide our customers with sustainable new products."
Mostafa Terrab, Chairman of OCP, quoted in OCP's Green Ammonia pilot plant, and the African Institute for Solar Ammonia, August 2018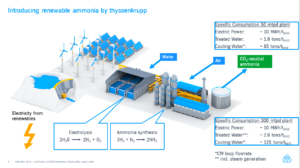 The green ammonia demonstration plant in Port Lincoln, South Australia, is moving ahead, with engineering design and electrolyzer and ammonia technology provided by ThyssenKrupp.
I have no doubt that, this time next year, I'll be reporting on how Casale, Haldor-Topsoe, and KBR have also announced projects for their ammonia technologies.
Ammonia Energy reporting on this topic since last year
A year in review
To mark the second anniversary of Ammonia Energy, we are reviewing the most important stories from the last 12 months. This "top ten" list spans two areas: five are significant advances that build on activities that were already underway in 2017, and five are new developments that emerged decisively this year.
Significant advances:
Ammonia as a Hydrogen Carrier for Hydrogen Fuel Cells
Maritime Industry Targets Ammonia Fuel to Decarbonize Shipping
Ammonia as a Direct Fuel for Alkaline and Solid Oxide Fuel Cells
Great Strides in NH3 Commitment and Progress in Australia
New developments:
Green Ammonia Plants, Commercially Available Today
Ammonia Is Taken Up by Wide-Circulation Media
Targets, Limits, Pledges, Bans: Enforcing the Transition to Sustainable Energy
Affiliated NH3 Groups Become a Force for Advocacy
Fossil Energy Companies Turn to Ammonia