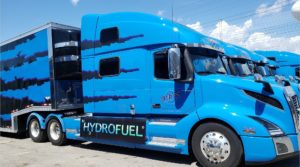 This week, Hydrofuel Inc announced a commercial demonstration project to convert diesel gensets and transport trucks to run on ammonia fuel, with the conversion work and dual-fuel operations scheduled for a three year period.
The CAD $2 million (USD $1.5 million) project will take place at TFX International, in Toronto, and involves the conversion of four existing diesel-fueled assets: two stationary power generators and two transport trucks. These will be converted using Hydrofuel's "aftermarket multi-fuels engine retrofit systems," and they will thereafter be able to operate on a dual fuel basis.
This dual fuel operation could be in either a "low emission" configuration, using diesel and ammonia as dual fuels, or a "zero emission" configuration, using "hydrogen oxygen assisted NH3 fuel." The project partners anticipate that lower ongoing fuel and maintenance costs will pay for the upfront investment in engine conversion and fueling logistics.
Toronto, Ontario-based TFX International SPECIALIZED VEHICLE TRANSPORT will provide two diesel fuelled generators and transport trucks to be converted to use Hydrofuel ammonia fuel over three years …

Fuel and electricity savings from the $2 million project are expected to cover most of the engine conversion, operating, and ammonia fuelling and infrastructure costs, at a small fraction of the cost of using hydrogen fuel.
Hydrofuel press release, Diesel generators and trucks to use green ammonia fuel, 06/17/2019
The engine conversion project was announced on June 18 at the 1st National Hydrogen Mobility Innovation Conference in Ontario, Canada. It represents a major step forward for Hydrofuel, which first demonstrated its ammonia fuel engine conversion system in 1981.
TFX International is a specialist freight company, dedicated to vehicle transport. This project has the potential to decarbonize its operations, both from the perspective of fuel consumption in transportation and also for its stationary power requirements.