On September 11, the Australian Renewable Energy Agency (ARENA) issued its 2019 Investment Plan. The theme of the accompanying press release is "sharpening our focus," and indeed the agency articulates just three investment priorities: "integrating renewables into the electricity system;" "accelerating the growth of a hydrogen industry;" and "supporting industry to reduce emissions."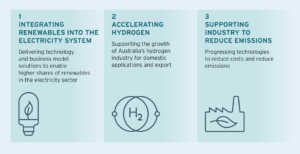 The prioritization of hydrogen – and with it, ammonia as a possible hydrogen carrier – is a new development for ARENA.  According to a presentation given at last month's Ammonia = Hydrogen 2.0 Ammonia Energy Association Australia Conference (see initial Ammonia Energy coverage here), ARENA has invested AUD $1.4 billion (USD $1.0 billion) since it opened its doors in 2012.  Of this amount, AUD $645 million (USD $442 million) has been devoted to solar photovoltaic technology; AUD $190 million (USD $130 million) to grid integration; and AUD $145 million (USD $99 million) to solar thermal technology.  A total of AUD $377 million (USD $258 million) has been spread across four other categories.  In ninth and last place on this list is hydrogen, which received a mere AUD $33 million (USD $23 million).
As detailed in ARENA's General Funding Strategy, the agency seeks to "advance technologies or applications towards commercialisation, particularly by overcoming the early-mover disadvantage that leads to under-investment in new renewable energy options." ARENA does this by making grants to applicants to the agency's Advancing Renewables Program (which is "continuously open for applications") and through discrete funding rounds that target specific areas.
Last year ARENA commissioned a major report on hydrogen energy, "Opportunities for Australia from Hydrogen Exports."  As Ammonia Energy reported at the time, the report's goal was to "identify the opportunities for Australia to export hydrogen to help meet the potential global demand for hydrogen."  After assessing "how a global hydrogen market could develop over the next 20 years," and "the drivers of competitive advantage in meeting the global demand for hydrogen and . . . Australia's position compared to other potential suppliers," it concluded that "there is scope for Australia to become a significant exporter of hydrogen."
Now ARENA would like to "drive innovation in hydrogen supply chains, from production to end use, creating opportunities across the domestic economy, and positioning Australia to become a major renewable energy exporter." This translates, at the level of specific technologies, to a strong focus on electrolysis. One of the four areas of interest articulated in the Investment Plan is electrolysis at a scale of 10 MW or less that could produce hydrogen for transportation and other distributed applications. A second area of interest relates to large-capacity electrolyzers ("10-40+ MW") that could be integrated with industrial applications such as ammonia production. A third area relates to very-large-capacity electrolysis plants (>100 MW), that might support, among other things, energy-storage applications. (The fourth area is the catchall "projects or activities that support the implementation of the National Hydrogen Strategy.")
ARENA's aforementioned presentation at the Ammonia = Hydrogen 2.0 Conference was delivered by Strategy Analyst Charlotte Rouse. The presentation fills in the ammonia-energy gap in the Investment Plan (which mentions ammonia only as an industrial consumer of hydrogen). Rouse identifies ammonia as one "potential medium for exporting renewables," but supports the point by citing a 2017 paper which depicts ammonia as a hydrogen carrier that is slightly higher in cost than the liquid organic hydride methyl cyclohexane (MCH) and slightly lower than liquid hydrogen. The cost comparison includes a substantial expense for "H2 regeneration," i.e., the process of cracking ammonia to produce hydrogen before actual energy use. Rouse's ammonia framework does acknowledge the possibility of "direct use" of ammonia without first extracting its hydrogen content, but does not mention the cost implications of this approach. As it happens, though, Shigeru Muraki, Representative Director of Japan's Green Ammonia Consortium, in his Ammonia = Hydrogen 2.0 keynote provided a cost comparison that showed direct-use ammonia with a 44% cost advantage over MCH and a 49% advantage over liquid hydrogen.
Rouse's presentation concludes by highlighting ARENA's hope that Australia's existing ammonia industry will help overcome the "chicken-and-egg challenge of matching infrastructure development with demand."  The agency's idea is that ammonia producers could be among the initial customers for hydrogen produced from renewable electricity and that demand from this quarter can help hydrogen "reach scale incrementally" until "export supply chain scale" is within striking distance.  A start on ARENA's vision in this regard is already underway at Yara's Pilbara plant.  (Read the most recent Ammonia Energy coverage here).
ARENA forecasts 2019-20 grant and operating expenses of AUD $309 million (USD $212 million).