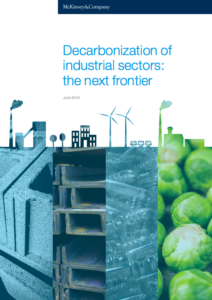 McKinsey & Company, the global consulting firm, recently published a report that analyzes the "Decarbonization of industrial sectors," with a focus on the four heaviest emitters: cement, steel, ammonia, and ethylene production.
"We conclude that decarbonizing industry is technically possible … We also identify the drivers of costs associated with decarbonization and the impact it will have on the broader energy system." Of course, "technical and economical hurdles arise," but the report provides valuable analysis of the economic levers that will be required.
According to McKinsey, carbon-free ammonia will come at a "~5 to 35 percent increase in price," depending on the future price of renewable electricity. And, because of this economic hurdle, "decarbonization would require technological breakthroughs, a further lowering of zero-carbon energy prices, changing customer preferences (willingness to pay) and/or a regulatory push." These four market drivers are already evolving to make green ammonia increasingly competitive.
Read the full article at AmmoniaIndustry.com.