Goeree-Overflakkee, in the southwest corner of The Netherlands, already produces more renewable power than it can consume. But, by 2020, this small island will generate a full 300 MWe of solar and wind, which far "exceeds the electricity demand on the island, rated at maximum 30 MWe peak."
Stedin, the local grid operator, has the expensive task of integrating these and future renewable resources into its electricity distribution system.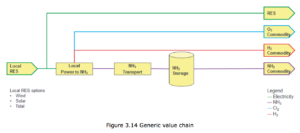 The recent Power-to-Ammonia study included a detailed analysis of Stedin's business case for producing renewable ammonia as a way to store and transport this electricity – enabling the island to become a net exporter of clean energy.
The investment cost of installing this ammonia production capacity would be partly offset by the avoided costs of expanding the electrical grid. In recent years, Stedin has "invested more than 100 MEUR in increasing the transport and distribution capacity of the electricity grid in order to be able to transport electricity off the island."
The goal of the project is to convert the surplus of sustainably produced energy from wind or solar energy to ammonia … If wind and solar power increases without demand side management and without electricity storage the investment in grid extensions will be substantial. A rough estimate adds up to around 50 MEUR for Goeree-Overflakkee. The combination of demand side management and local electricity storage can contribute to the reduction of the necessary investments in the grid.
Read the full article at AmmoniaIndustry.com.