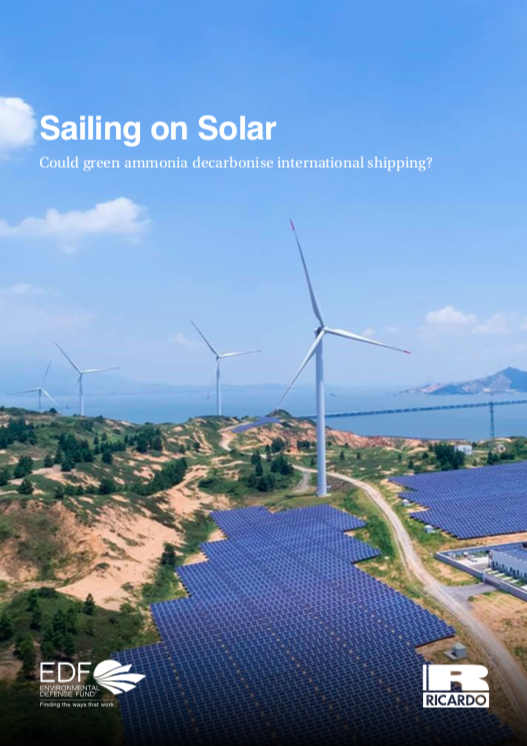 In May, the Environmental Defense Fund published Sailing on Solar, a significant new report that assesses the potential for green ammonia to be used as a maritime fuel, reducing the global shipping industry's carbon emissions.
Its 60-page techno-economic analysis concludes that "green ammonia can – indeed should – be adopted as a greenhouse gas-free fuel more easily, quickly and safely than people may assume." Indeed, Sailing on Solar estimates that, to meet decarbonization targets, ammonia will need to start being adopted in ships "during the 2020s."
International shipping can meet its target of at least halving its emissions by 2050, and can unleash trillions of dollars of investment opportunities in sustainable industrial infrastructure – particularly in developing countries – by using clean fuel such as "green" ammonia …

Sailing on Solar identifies green ammonia, a fossil fuel substitute that does not produce greenhouse gas emissions when used by ships, as one of the most promising of several potential shipping fuels that produce zero emissions.
Sailing on Solar, EDF, May 2019
Sailing on Solar does not consider ammonia to be the only potential solution for meeting the IMO's 2050 targets (it acknowledges that all solutions should be explored, specifically hydrogen and batteries), but it focuses on ammonia due to five advantages over those alternatives:
ammonia already has an established "global logistics infrastructure"
ammonia does not need cryogenic storage
ammonia is "relatively energy-dense," enabling weeks-long voyages
ammonia "provides flexibility" as it can be used both in the internal combustion engines available today, and in the fuel cells that will become available in the future
ammonia has a risk profile "that can be managed with existing standards and procedures."
For an industry now familiar with fossil fuels, the idea of ammonia as a fuel may at first appear strange, daunting or even dangerous. This paper uses existing scientific data, basic chemistry, engineering knowledge and practical experience to show that green ammonia can – indeed should – be adopted as a greenhouse gas-free fuel more easily, quickly and safely than people may assume.

This paper explores the idea of establishing a green ammonia supply chain at the scale required for international shipping and shows how the technical and economic barriers can be overcome using existing proven technology.
Sailing on Solar, EDF, May 2019
In addition to sections devoted to safety, propulsion and storage technologies, and green ammonia production, the report includes an estimate of the level of investment required. In addition to the costs of owning and operating ships and related infrastructure, this "high-level financial analysis" also considers the impact of scaling up ammonia production (and the necessary renewable electricity inputs) to a rate that could fuel 40% of the international shipping industry (the long-haul, ocean-going vessels that cannot be easily electrified). "Adopting green ammonia could stimulate investment of up to 6 trillion U.S. dollars by 2050."
"Countries must get serious about exploring international policies that can provide the incentive for alternative fuels like green ammonia and other sustainable shipping fuels to be adopted," said [senior legal manager at Environmental Defense Fund Europe, Aiofe] O'Leary. "First movers will be able to benefit from investment in their economies towards additional renewable capacity whilst also gaining a competitive advantage as the shipping industry transitions to clean fuel. All that is needed to ensure this vision becomes reality is a sensible policy, including robust environmental safeguards, to allow the investment to flow."
Sailing on Solar, EDF, May 2019
The full report is available to download from the Environmental Defense Fund.